Yes it's Friday and that means it's time for another Finish The Sentence Friday post. Today's sentence prompt? "What I really want to scream out loud is … "  I'd like to finish it with … "remember the vomit bag."
Remember the vomit bag.
Yes, what I really want to scream out loud is "remember the vomit bag!" Delightful, no? Oh it gets better.
In my last post I wrote about the time my darling honey bunny baby of a son forgot to bring THE key item he promised to pack. Well to counter that revelation I am offering up a rendition of the time I forgot to pack something rather important. Just typikel.
It's March of 2009 and the three of us have just spent a splendid Spring Break vacation in San Francisco. My teenage children and I are now on the plane heading home. Both are sleeping and all is calm.
I allow myself yet another moment of Thankful Reflection. It's so nice that I'm able to enjoy some freedom while travelling. A few years earlier it was full on attention with my two. I had to remember the onboard snacks (goldfish, chocolate, lifesavers, jujubes … yes, I am one of those moms. Keep 'em full of junk and they'll be happy), their blankets, their whiteboards and pens, their diapers, their wipes … oh the list went on for pages. Now I just have to remember to basically bring them. They look after their carry-on. Perfect.
"Ok folks we are about to make our descent. Please ensure that your tray table is locked and your seat is in the upright position in preparation for landing. Flight crew please prepare the cabin …" You know the drill.
I gently nudge my children awake. My son's eyes flutter, he nods and immediately goes back to sleep. My daughter gives her head a wee shake and a funny look comes over her face. Aw. She's aware the vacation is over and it's time to head back to school. I give her hand a pat and settle myself into my seat.
"Can I have a bit more of my chokkie Mom?" this from my suddenly alert and always eager for chocolate son.
"Only if you give M some too." He shoves the bar in his sister's face but M just shakes her head. Huh. What's wrong with her? Oh… no. I've forgotten. How could I forget? She often gets queasy on landing. Time to find the aircraft vomit bags. Just in case. I rifle through the net seat pocket in front of me. Empty but for a creased emergency pamphlet. No problem I'll just use her brother's. No. I won't. There isn't one. I lean across my now paler than pale daughter and scrabble through her seat pocket. Bonus. It holds not only the wrinkly emerge pamphlet but a well-thumbed magazine. Unfortunately no vomit bag though.
Surely I packed one in my carry-on bag? A brief plummage reveals nothing. Bad mommy. How could I not remember the vomit bag?
I sneak a peek at pale girl. She sees me and waves a dismissive hand in my face.
"Stop staring at me!"
This is bad. We've still ten minutes to go, the flight attendants are all seated and my little girl is about to hurl.
"You  don't have a throw up bag in your seat pocket do you?" I hiss at the startled chap across the aisle. He rallies and after a futile search produces two thin wisps of tissue. Others around him mercifully assess the imminent need. However it's stunning. Not one pocket in our immediate area contains a bag.
To my poor daughter's supreme horror she begins the inevitable undulation that precedes sickness. Oh my. There's only one option.
"The seat pocket. Go in the seat pocket."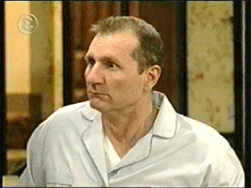 Credit: bodybuilding
She does. And again. And yes again. That netted number is now bulging beyond what's physically possible. Yet not one drop has escaped. I'm all astonishment. As the unmistakable aroma floods the cabin a huge handful of purloined Starbucks napkins flutters down from over the seat in front of me. Endless packets of wet wipes are handed from passenger to passenger until they arrive at our row. The kindness of these strangers is beyond belief.
My effusive "I'm so sorry. I forgot to remember the vomit bag" is waved off by a smiling flight attendant.  "Not at all. It's our fault, ma'am. We should have provided the bags. Please don't worry. The maintenance guys will have that cleaned in a jiff. Welcome home." Ten minutes later we slog towards the customs officer in the arrivals hall.  He zeroes in on my son with a frown and a beckoning finger; suspicion oozing from every pore. Obviously I've stolen these two from their father. I bite down on my lips to keep from screaming out loud "I didn't remember the vomit bag!"
"Why are you so sad? Take off that hat."
My little man takes off his cap and looks up at the uniformed officer.
"I'm sad because school starts tomorrow."
This was unexpected. The officer fights to break out in a smile. He dismisses us with the slightest of nods and I steer my girl to the bathroom for a much-needed freshen up.
Flying with children? I want to scream out loud "remember the vomit bag." Trust me. You'll be glad you did.
This wraps up my post for Finish the Sentence Friday. Many thanks to my marvelous hosts Kate's Can I Get Another Bottle of Wine, Janine's  Confessions of a Mommyaholic, Stephanie's Mommy for Real and Kristi's Finding Ninee. Today they are joined by Sarana at http://www.sandinmytoes.tk/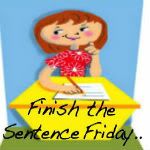 Enough about me and my just typikel failure to remember the vomit bag. I'm curious about you. Has such forgetfulness ever happened to you? Or are you Perfect Parent and you remember not only the upchuck bags but also the Gravol and wet wipes? If you'd care to share, I'd love to hear.