Easter morning. A time of wonder, excitement and delight.
Except in our house that one year …
Allow me to introduce you to our dear Oscar.
I chose to post this particular picture of him first because it encapsulates his personality. Perfectly.
"I'm so clever to have dug this pit right in the garden on this hot day. Not only does it keep me cool, it keeps me TOTALLY hidden."
Uh huh. Not the sharpest knife in the drawer.
I could write pages on his antics but for the purposes of this post I'll just divulge that he was full of mischief.
Why yes, that IS the extension cord for the outside Christmas lights wrapped around our dear boy's body. No, we had nothing to do with it. We just put him outside for simply five minutes tops … and he managed to get tangled up all by his little lonesome.
You're laughing now, aren't you? Yes and that's just the weensiest snippet of life with our unforgettable Oscar.
Ok. Now a little background colour to that Easter morning of 2010.
The McKenzie household is blessed at Easter time. Not only does the Easter Bunny leave two bunny trails inside the house he also leaves two outside. Some might believe there are two Easter Bunnies at work however of course one can never be sure.
As this post is about Oscar (who always slept inside) I'll focus on the two inside bunny trails today. These trails, which consist of a few … alright dozens … ok zillions of foil wrapped chocolate eggs, meander from the foot of each of my two children's beds. They are scattered lovingly placed at random intervals in parallel lines that float from their bedrooms, down the hall and off throughout the rest of the house. Each one ends far from where it began with the delightful totally expected surprise of a large solid chocolate bunny. Milk chocolate for my daughter and white chocolate for my son. God help me if they follow the incorrect trails and end up with the wrong bunny.
Hopping, Alright, Gobbling Down The Bunny Trail.
It's Easter morning 2010. The sun is pouring through the blinds of my bedroom window. Huh.This is unusual. Normally by now my two would not only be already awake and have decimated the inside bunny trails but they'd be outside delightedly snatching up the eggs scattered there. I stretch and lie back on the pillow. How delightful. There's hope. They are truly growing up.
"Happy Easter everybody!" my 14-year-old son bellows calls out from his room next to mine.
"Morning! Happy Easter!" chimes his 15-year-old sister in immediate response.
Yes. This calling out bit is certainly different. Within seconds their feet hit the ground and both come bouncing into my room.
"He came! The Easter Bunny came!" they proclaim with intentional childlike euphoria.
Well that's more like it! Assuming they are going to zip back for the impossibly small  adorable Easter baskets that always appear miraculously overnight at the foot of their beds, I whip back my duvet.
"Hey, let's just savour this for a bit Mom. The best is yet to come."
Both of them fall into my bed and pull up the duvet.  What? Why aren't they hopping, alright, gobbling down the bunny trail? Did the Easter Bunny swap my children with adults? Good heavens this is quite different from normal. I'll take it though. What a concept; staying in bed, my feet toasty and warm. Pure heaven on Easter morning.
"Hey Mom. Do you remember Oscar's first Easter and that note we left for the Easter Bunny?" my son pipes up.
How could I not? It was a treasure.
" Dear Easter Bunny, Please don't be scared if you hear barking. We have a new puppy. He might bark at you..."
The funny thing is Oscar didn't. In fact he barked so rarely, we had a running tally of the times he barked. It didn't reach 30.
As we share a quiet laugh over the memory of the note I decide to not tell them I kept it; they'll want to SEE IT RIGHT NOW! Later. I'll tell them later.
"Hard to believe that was 10 years ago."
In some ways it is but in many ways it isn't. Our dear lad's appearance for one. The fur around his eyes and snout are getting really rather white.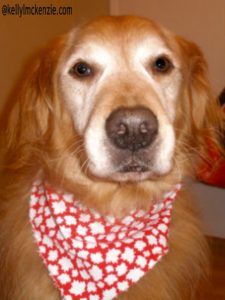 And yes, the fact that we are all lying in bed and not hopping, alright, gobbling down the bunny trail is a sharp reminder as well.
Perhaps I'm not alone in thinking this. The room falls silent.
Then I hear a little something. Out in the hall? No. Can't be. We are all here tucked up cozy and warm.
Squeeeeeek… snuffle…
"Hey did you guys here that?" pipes up my ever vigilant, always on top of things daughter in perfect timing with her brother's paralytic "SSHHHHHH!"
Squeekkkk … snuffle … crunchhhh … squeekkkk … snuffle … snuffle … crunccchhhh … crunccchhh … What the? Oscar? NO! It can't be! This is his tenth Easter. He knows the rules. And he's shut safely away in the kitchen. Surely.
Without one word the three of us tumble out of bed and race for the hallway. The two neatly aligned trails are non-existent. Instead of 50 eggs there are but ten scattered about the whole the length of the hall. The previously shut kitchen door is ajar. How? We dash into the living room. Oh my. Only the armchairs offer up chocolate eggs.  Slimy, crinkly shiny remnants of foil litter the carpet. The hardwood floor is randomly spotted with wettish globular blobs of light brown drool. A dining room chair, as my mother would charmingly say, is lying ass over tea kettle. In short, the room is far from how the Easter Bunny surely left it last night. The creator of this purely angelic Easter vision? He's curled up by the dining room table the picture of innocence; his audible burp surprising only himself. Yes. Golden boy Oscar. He's had a merry time hopping,alright, gobbling down the bunny trail. At least 45 chocolate eggs are toast. Foil wrappers and all.
Need you worry about the amount of chocolate foiled eggs left for my two? Nope. Thanks to the closed door at the top of the stairs the two bunny trails (and the two solid chocolate bunnies also) are still preserved safely in the basement. And there's a wealth of eggs yet to be discovered outside.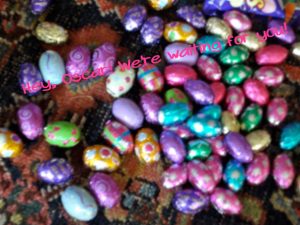 Should you be worried about the amount of chocolate our dog has consumed? Absolutely not. He's raided my darlings' Hallowe'en loot more times than we can count with no ill effects whatsoever.
***
Not quite my boy. Any attempt to have me forget your debauched behaviour is bound to be foiled. Without going into too much detail let me just say you'll leave constant reminders of your Easter morning feast out on our walks for the next few days at least…
Enough about Oscar and his hopping, alright, gobbling down the bunny trail. I'm curious about you. Have you ever experienced such an Easter morning delight? Or does your Easter Bunny trail remain perfectly unfoiled? Is your pet the perfect angel or do you also have or know a devil like our golden boy? If you'd care to share, I'd love to hear.